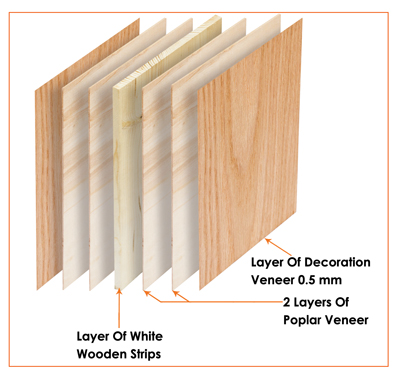 Latte mainly used in home, office, hotel, kitchen furniture and dressing rooms, as it is easy to cut and reshaped, also used in binding walls, ceiling, partitioning Nicely and attractive, and generally in decorative works, also it is great to be used as articulated or tractor doors. Covered Latte Consists of :
- Internal stuff : Latte consists of inside layer of white dried wood strips with moisture between 8°:10° and intensity 470Kg/M3, strips are gathered automatically.
- Then Two layers of Rotary veneer with thickness of 2.6 mm on every wood face in an opposite way with wooden strips.
- External layer of covered board : A layer of natural decor veneer with 0.5 mm thickness over the last two mentioned layers to give the board the decorative style desired (In portrait or landscape orientation) as the customer requires and decor veneer are from a famous collection like ( Oak, Beech, Mahogany, Ash … etc.) décor veneer may be on one face or two faces referring to the use of the product or customer desire.
Good Wood Characterized with the variety of its products of latte as we produce different sizes like 122×244 - 122×298 With thickness starts from 9 : 45 mm to be the first latte factory produce 9 mm latte, In addition we are ready to make many sizes and other types as per customers requests. (122×255 - 122×260 - 151×250 .... )
Quality Guaranteed : in Good Wood we guarantee the quality of product even after it has been produced, if there are any Manufacturing defects from our Side.
code

: Latte Ash

size

: 1220X2440 mm - 1220X2980 mm

Thickness

: 15 mm - 18 mm - 22 mm